The Campus of Cornell University
June 8, 2015
Cornell University, located in Ithaca, New York, offers a rigorous education to myriad students from around the world. In the words of Ezra Cornell, the university was founded as a place where "any person can find instruction in any study." Starting with just one building in 1868, the main campus where most of this instruction occurs now comprises 628 buildings spread over 2000 acres.

Severud Associates has designed many buildings at Cornell, starting in 1943 when the firm was retained to collaborate with architect Frederick L. Ackerman (a Cornell alum) on a Men's Sports Building. Since then, Severud Associates has provided structural engineering services for several iconic campus facilities, including the Kennedy Hall and Roberts Hall complex for the New York State College of Agriculture and Life Sciences. Commissioned in 1984—31 years ago this month—the dramatic building consists of two separate three-story office wings connected by a common fourth floor, which houses the Department of Landscape Architecture.
Founded on three-ton bearing capacity spread footings, the complex is constructed of structural steel columns, girders, and beams which support floors of concrete fill on metal deck. Moment resisting frames in both directions are used to resist lateral loads. A dining facility and 600-seat auditorium are contained within the building and its exterior is marked by a visually striking barrel vaulted studio space at the north end.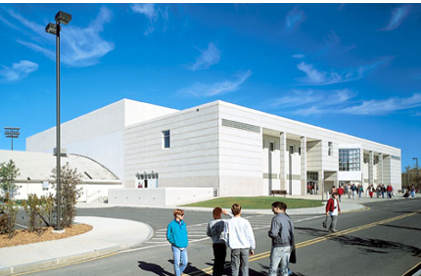 In addition to the Kennedy/Roberts complex, Severud Associates designed Rhodes Hall (home to the Center for Advanced Computing), Bartels Hall (a basketball arena and multi-purpose field house), and the Schwartz Center for the Performing Arts. The latter posed an interesting design challenge due to its cramped location between a gorge and two residence halls on a narrow, one-acre site.
To resolve this challenge, the center's theaters, studios, classrooms, and offices are tightly clustered around a central lobby in the same way that an Italian hill town surrounds its main piazza. Along the north edge of the site, Severud Associates designed a steel-framed colonnade that follows the gorge and provides a covered passageway to the three-story lobby and other parts of the facility.
Severud Associates has a long history of designing buildings at Cornell's Ithaca campus as well as the Weill Cornell Medical College (WCMC) in New York City and at other colleges and universities around the country. Notable recent projects include the WCMC Belfer Research Building, the University of Chicago's Reva and David Logan Center for the Arts, the Diana Center on the Barnard College campus, and the Krishna P. Singh Center for Nanotechnology at the University of Pennsylvania.